Final Fantasy VII Remake Has Been Delayed To No One's Surprise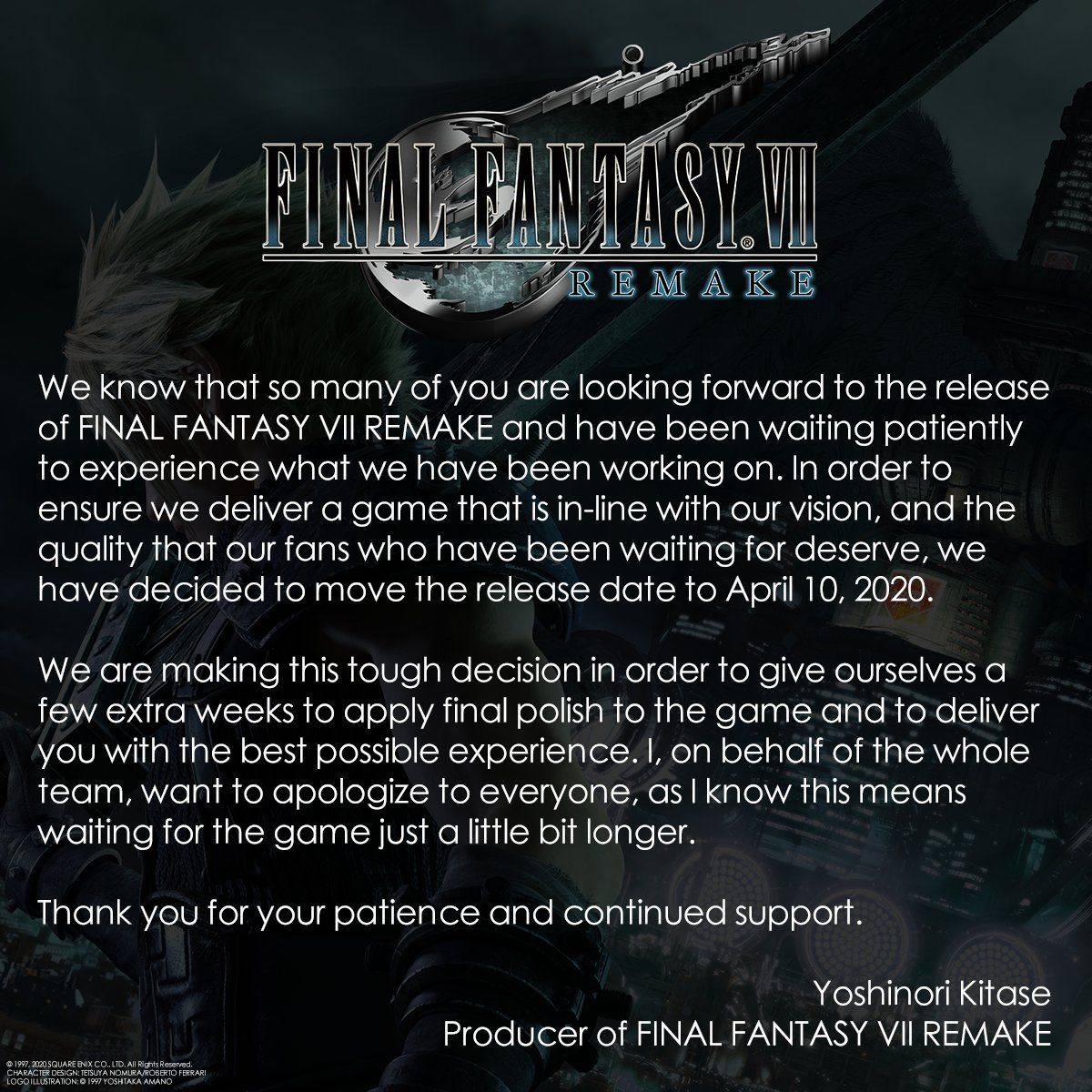 2020 is a brand new year which will see a number of blockbuster releases. If you've been looking forward to the highly-anticipated Final Fantasy VII Remake, then I have some bad news for you.
According to Game Producer Yoshinori Kitase, Final Fantasy VII Remake has been delayed. Its initial release date was set on 3rd March 2020 but now, it have been moved to 10th April 2020. It's a small delay, but it's a delay nonetheless.
As for why Final Fantasy VII Remake been delayed, it is deemed necessary to ensure the final game will be in-line with their vision, and good enough so that all the fans around the world are satisfied after the long wait. Kitase apologized for the wait and mentioned how the team needs a few more weeks to polish the game and to deliver us the best possible experience.
This isn't necessarily bad news as it's only a one month delay. In fact, it's way better than receiving a game that doesn't perform well and is still riddled with bugs upon release. We expect to see a playable demo coming out soon, as suggested by leaks. However, we have no confirmation as to when it will be coming just yet.
Final Fantasy VII Remake will be coming exclusively to the PlayStation 4 on 10th April 2020. It will be a one-year timed exclusive, so we may see it launch on other platforms later on, but no earlier than April 2021. Even then, there's no word on whether it will ever be released on PC.
Source: Square Enix
Pokdepinion: This can't be a surprise for anyone who knows Square Enix. They have delays for essentially every major game release, most notable Final Fantasy XV and Kingdom Hearts 3. I saw this coming from miles away.
Related
Source : https://pokde.net/gaming/sony/playstation-4/final-fantasy-vii-remake-has-been-delayed-to-no-ones-surprise/#utm_source=rss&utm_medium=rss
Latest posts by Bender Bending Rodríguez
(see all)