Grand Theft Auto: San Andreas Review
Grand Theft Auto: San Andreas is the most outlandish game Rockstar has ever made. While Rockstar has grown up a bit with more mature, dark storytelling, and realism; many fans will look back on San Andreas as their favorite, and one can understand why. It takes everything that made III and Vice City great, refines it, gives you even more to do, and throws in one of the wildest narratives, one that will take you to every corner of San Andreas, and throw a whole lot of silly your way. Not too much; a reasonable amount. This isn't Saint's Row, in that regard; and that's a good thing. It contains the right mix of silly and seriousness, to keep the narrative resembling something coherent.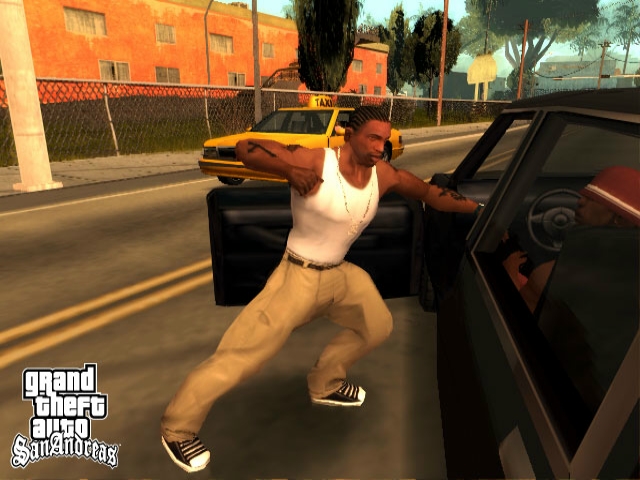 Carl Johnson (or as you'll know him, CJ) is coming home from Liberty City, in the event of his mom's death. Just off the plane, he is pulled over by some bent cops; Tenpenny (played by Samuel L. "Motherfucking" Jackson), and Pulaski; who frame him for the murder of a cop (which will be happening a lot during this game). That makes you their dog.
You arrive at your old mom's house, where you meet your life-long homies, Sweet (also your brother), Ryder, and Big Smoke; and all members of the Grove Street crime family. It turns out things went to hell while you were gone, and most of the families split from Grove Street. Led by the naive Sweet, you and your homies take to the task of bringing GS back to the top.
Plans quickly derail, and what results is one of the wildest narratives ever, filled with tons of memorable, lovable characters; most of which are well-voiced by well-known actors/comedians/rappers; and Rockstar's most idealistic game ever, as opposed to their usual brass cynicism; though the wonderful taut political commentary is still there. It's also their largest-scale, with a whopping 3 cities to explore, all connected by vast countryside/forest/desert; and a mission count well over 100; this game will take you about 20-30 hours to beat.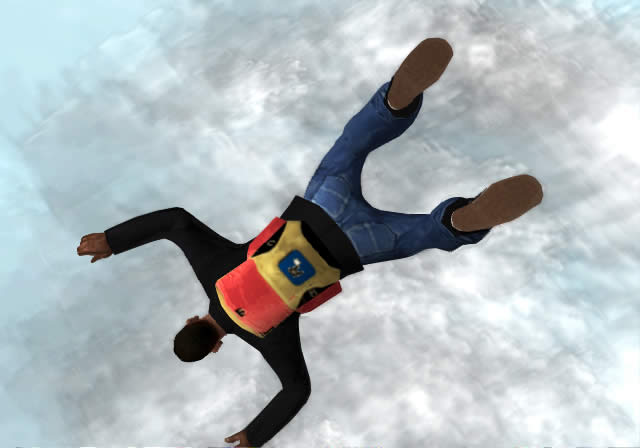 The game's map is mostly based on California, with Nevada thrown in for good measure; Los Santos=Los Angeles, San Fierro=San Francisco, and Las Venturas=Las Vegas. All with their own flare, and whatnot. The size of the map is one of the main reasons many people find this installment their favorite; it is really big, and it can be pretty fun to get from place to place (remember kids, we didn't have taxis back then); but it can also sometimes be easy to get lost, and you will be annoyed at least once; such as driving for like 5 minutes in the forest, before coming across a huge divide filled with water, between you and the rest of your path, forcing you to drive along the gap until you find a way to continue, taking up a considerable amount of time. It may sound like I'm being nitpicky, but I truly do appreciate the size of the map, and it really immerses you into the world. Just an interesting fact, San Andreas is set in the same universe as III and Vice City (as well as Manhunt), so be on the lookout for cameos of past characters.
Speaking of water, if you happened to fall off of a cliff into it, as frustrating as it would be, for the first time in GTA history, it would not render you dead; as you can now swim! Underwater even (though this is rather useless, except for rare occasions, and drains your lung capacity meter). It is more fun on land, though; as swimming can get kinda boring, and annoying; sometimes spending many minutes trekking around in the water, just waiting to find a dock or something you can grab on to to get the hell out. It's still a heck of a lot better than dying instantly by merely standing in the water. Just try to stay on land, if you can. Water=Life Insurance. You can also use it to bypass the bridges blocking off the rest of the map, early in the game, by simply swimming past them, but I don't recommend this. You will get a lot of cops on you, and you will not get them off with anything less than your imminent death.
I mentioned the lung capacity meter earlier, which is one of the many skills you can level up. You can level up your stamina (how long you can sprint, cycle fast, etc.), your skill with every weapon, every kind of vehicle type (by going to specific vehicle schools), and your physique. You can eat out and work out (not at the same place); and depending on how much of either one you do, your body and (in the fat case) voice will change. You eventually have to go to a Burger Shot (or Cluckin' Bell, or Pizza Stack) and eat something, otherwise your hunger will go down, and you'll start to lose health. Scrappy mechanic? Sure, but it doesn't happen too often. Still, that particular "RPG" element could have been left out, and no one would miss it. Your lung capacity meter dictates how long you can swim underwater. It can be leveled up with practice; you should start this early, as a mission 3/5 into the game requires you to have good lung capacity.
Also, depending on your physique, you can (if you know where to look) acquire girlfriends. This mechanic flat-out sucks, and is so time-consuming and boring for what your eventual reward is (one for instance can get you out of jail with all of your weapons). There is only 1 instance where you have to date somebody, but other than that, there are much better things you can be doing with your time.
Yo CJ! Don't be a busta! There are various spots all around Los Santos, which are all controlled by one of the two rival gangs. You can mount an attack on these spots, and claim them for your own. This will earn respect for you (along with any mission you do for your homies). You can use respect to recruit gang members to help you with random things, such as certain missions and taking down rival gang turf. This mechanic disappears 1/5 into the game.
You can pick and choose what CJ wears, his hair-do, and his tattoos, making him the most customizable protagonist of the entire series. There are different clothes stores, all corresponding to different social classes. Binco is for the poor, bargain shoppers, while Rodeo is for the rich. You can find various barbers and tattoo parlors all around the city.
Another thing that can be leveled up is CJ's melee. Once you reach a certain level of buff, you can learn new moves at either the local Los Santos gym or the San Fierro martial arts dojo. It equips the triangle/Y button with sweet, ball-busting moves. This of course is completely optional, as you won't really be doing much melee.
.
Along with the usual cars, boats and motorcycles; for the first time in the series, you can fully fly airplanes (not just that damn Dodo). One of the best missions in the game is a flight school, which is mandatory. It will piss a lot of people off, though. Also new to the series is the ability to move while free-aiming, though you have to level each gun up to a certain level before you can move while shooting. While it's not perfect, it's still a lot better than past GTA gunplay, though that really isn't saying much. The series isn't about pin-point accurate shooting mechanics.
Once you reach Las Venturas, you can put your hand and wallet to various gambling, such as video poker, blackjack or the roulette table. It's a pretty sure-fire and fun way to make hefty amounts of cash, which you can then use to play more poker.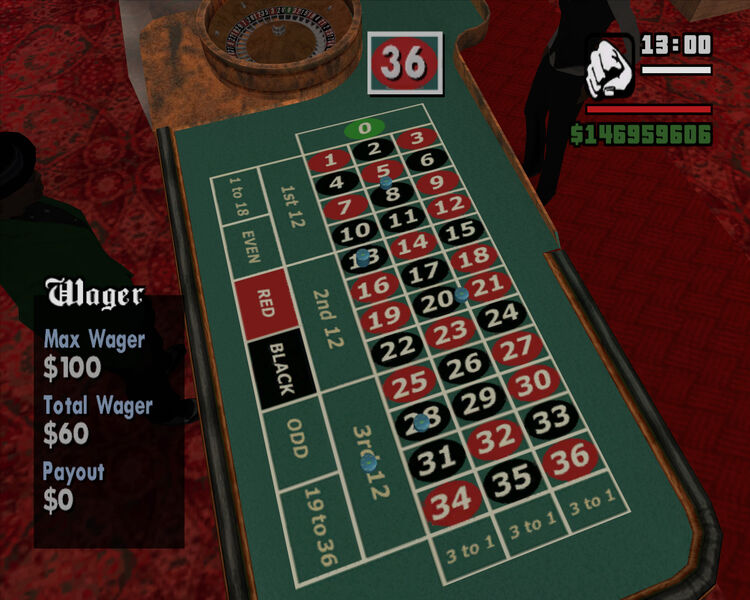 The soundtrack is great (with my personal favorite radio station being K-DST). While there are a lot of misses (mostly on the non-rock and rap stations), there are still a lot of great songs to keep you rocking. The public radio is a favorite, as well; with it's hilarious social/political commentary; though it's still not quite as good as III's Chatterbox. The little adverts in-between songs and the such are as funny as ever.
Word of advice: do not go into this expecting anything resembling "easy" or "fair" in terms of difficulty. There are some missions that are almost impossible unless you know what to expect, and what to bring with you in preparation. Couple that with the fact that (like every GTA before) THERE ARE NO CHECKPOINTS. These are some pretty long, sadistic missions we got here, and a very expansive distance between the mission start, and the local hospital. So, unless you save nearby the starting point (which you should always do; and be sure to save regularly, as there is no autosave, and I'm sure you don't wanna lose precious hours of progress), you're gonna have to go through a lot just to gt back to the point you died, make it a little further, and then die again. There is also at least one (optional) mission branch that you forces to PAY to start it; and these are some of the best missions of the game. And then there are the races, which…. I don't really have the stomach to talk about right now. Let's just say that if you can make it through the two mandatory races, the rest of the game will be a lot of fun, and a hell of a lot easier!
Grand Theft Auto: San Andreas is a very idealistic game, in terms of tone. While most other Rockstar games wind up depressing, San Andreas teaches you that no matter who you are, or where you're from, you can prevail, and be somebody. San Andreas is a rocking package filled with silly, rocking tunes, idealism and fun; and one of the greatest games on the PS2.
9.4/10
Now available on Playstation Store and Xbox Live Marketplace, for $15 and 1200 Microsoft Points respectively. You can also find it on PS2, Xbox, PC, and Mac.
Two things I love with a passion are video games and writing, and what's a better combination of those two things than being a game reviewer? 'Cause that's what I am. A reviewer for Leet Gamers Asia.

My tastes in games breach all genres, though my fortes are platformers and first-person shooters. My favorite game series is probably Super Mario, specifically the 3D games. I also love Rayman, Hitman, Bioshock, Half-Life/Portal, Uncharted, and Grand Theft Auto. As for my favorite game, it's hard to say: I love Portal 2, Shadow of the Colossus, Half-Life 2, Bioshock, Resident Evil 4, Super Mario Galaxy 2, Rayman Legends, Hitman 2: Silent Assassin, Grand Theft Auto IV, L.A. Noire, Fallout 3, Journey, and Metal Gear Solid 3: Subsistence all so damn much.
Latest posts by James Flaherty (see all)